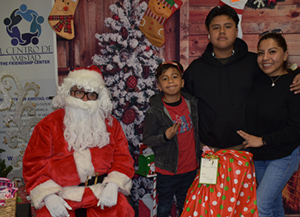 This year, El Centro de Amistad created a memorable holiday season for many families by hosting a private charitable event for 85 local families. The event was held at both ECDA offices (San Fernando and Canoga Park) on Monday, December 19, 2022. The families were greeted with snacks from Santa and children had the opportunity to meet with Santa and express their holiday wishes. Families had the opportunity to take a photo with Santa and were provided with gifts donated from the community, including items that were on their personal wish list.
Annually, during the holiday season, ECDA identifies families that are most in need to participate in its "Adopt-A-Family" program. The families chosen struggle with many obstacles including low-income, undocumented status, domestic violence, and single-parent households that make it difficult to provide for the family's daily needs. Additional factors such as financial stressors, homelessness, unemployment, and mental health concerns lead to feelings of sadness, anxiety, worry, and frustration for parents who are unable to provide gifts or even holiday meals for their beloved families.
"The holiday season is not always a happy time for many people, especially for those who have lost a loved one or are struggling to meet basic needs; therefore, it is crucial for us to provide holiday support such as food and gifts for clients in our community," said ECDA Board Member Enrique Sanchez, "especially during the aftermath of the pandemic and a surge in inflation, families could really use the extra support."
This year, El Centro de Amistad nominated 85 families to participate in its "Adopt-A-Family" program. Families were nominated and adopted with the help of ECDA's case managers and therapists who helped us identify the families most in need.
The gifts provided to the families were donated by members of the community and were collected by ECDA between November and December. Additionally, the following sponsors provided financial support to ECDA's 2022 "Adopt-A-Family" program: Chase Bank, SLTG, LLP C/O Enrique Sanchez, CalPrivate Bank C/O Noemi Gonzalez, Peter & Teresa Koral; Richard Koral, and many others.
El Centro de Amistad would also like to thank the many community sponsors who showed their support this year. We would like to give a special thank you to Enrique Sanchez, ECDA board member who provided financial support to two domestic violence survivors and to Juliana Oceguera, ECDA board member for adopting a combined total of 21 families with the help of her wonderful team at Chase Bank for the Adopt-A-Family program.
Since the program's initiation in 2018, it has grown steadily as more sponsors have committed themselves to support our mission. We hope the program continues to grow with the support of our community members, generous donors, and volunteers.
To learn more about ECDA's "Adopt-A-Family" program or the community services the organization provides, visit our website at https://ecda.org/.