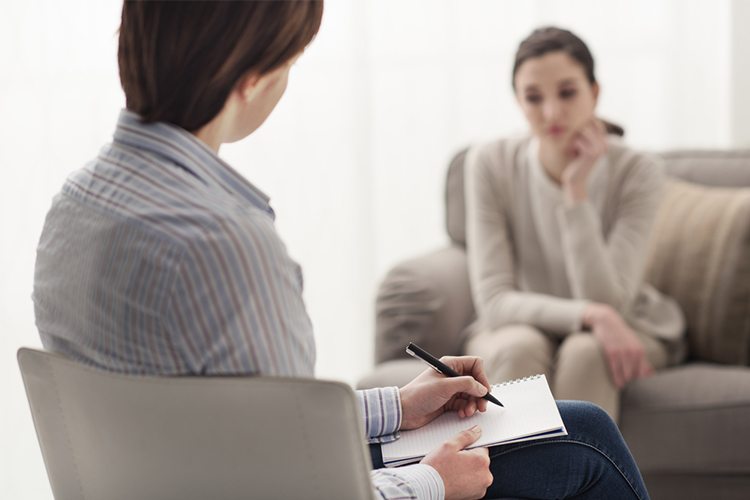 Crisis Oriented Recovery Services (CORS)
A short-term intervention designed to provide immediate crisis intervention; address identified case management needs, and assures hard linkage to ongoing services. The primary objective is to assist individuals in resolving and/or coping with psychosocial crises by mitigating additional stress or psychological harm. CORS promotes the development of coping strategies that individuals can utilize to help restore them to their previous level of functioning prior to the crisis event.
Individual Cognitive Behavioral Therapy (Ind. CBT)
Ind. CBT focuses on changing an individual's thoughts (cognitive patterns) in order to change his or her behavior and emotional state. Treatment assumes maladaptive, or faulty, thinking patterns cause maladaptive behavior and negative emotions.
Interpersonal Psychotherapy for Depression (IPT)
IPT is a short-term therapy (8-20 weeks) that is based on an attachment model, in which distress is tied to difficulty in interpersonal relationships. IPT targets transitional age youth population suffering from non-psychotic, uni-polar depression. IPT targets not only symptoms, but improvement in interpersonal functioning, relationships, and social support. Therapy focuses on one or more interpersonal problem areas, including interpersonal disputes, role transitions, and grief and loss issues.
Making Parenting A Pleasure (MPAP)
MPAP is 13 week discussion focused parenting class. Sessions are designed to utilize a conversational process which respects the skills of the parent educator, empowers families, and can be adapted to suit a wide range of environments and populations to maximally improve outcomes. The parent educator acts as a guide to help the families discover unrealized parenting knowledge. This approach raises the confidence of parents as they discover that they already possess the capabilities necessary to achieve their family goals.
Managing and Adapting Practice (MAP)
MAP is designed to improve the quality, efficiency, and outcomes of children's mental health services by giving administrators and practitioner's easy access to current scientific information and by providing user-friendly tools and clinical protocols. Using an online database, the system can suggest formal evidence-based programs or can provide detailed recommendations about discrete components of evidence-based treatments relevant to a specific youth's characteristics. Whether services are delivered through existing evidence-based programs or assembled from components, the MAP system also adds a unifying evaluation framework to track outcomes and practices.
Positive Parenting Program (Triple P)
Triple P is intended for the prevention and early intervention of social, emotional and behavioral problems in childhood, the prevention of child maltreatment, and the strengthening of parenting and parental confidence. An EBP parenting program and system for delivering parenting information to large and small populations. DMH is implementing Level 4 and Level 5 trainings at most clinics, emphasizing broad focus parenting skills training and behavioral family interventions. Target population is towards parents/caregivers of children ages 0-16 years.
Seeking Safety (SS)
Designed for flexible use with diverse populations and settings (outpatient, inpatient, residential) and can be conducted in group or individual format. Treatment is intended for individuals or groups who are trauma-exposed, experiencing symptoms of trauma(s) and/or abusing substance. Seeking Safety has been used with people who have a trauma history, but do not meet criteria for PTSD.
Trauma Focused CBT (TF-CBT)
An early intervention for children and TAY populations who may be at risk for symptoms of depression and psychological trauma due to experiencing any number of traumatic events. Services are specialized mental health services delivered by clinical staff, as part of multidisciplinary treatment teams. Program is intended to reduce symptoms of depression and psychological trauma.