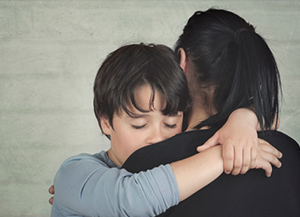 Toria Warner is a 28-year-old Caucasian female who had an open case with the Department of Children and Family Services (DCFS) and was referred to the Family Preservation Program (FPP) at El Centro de Amistad for guidance and support. She is a mother of four children, 10-year-old Landon, 7-year-old Azelya, 3-year-old Charlie, and 13-month-old Ethan. In-Home Outreach Counselor (IHOC) Mayra Amezcua was assigned to Ms. Warner's case and kept open communication with her Social Worker (CSW) to provide a cohesive treatment. IHOC Amezcua assisted Ms. Warner in successfully meeting her Family Preservation goals as well as fulfilling her court mandates.
Ms. Warner's Family Preservation case opened in June 2022. She came to the attention of DCFS due substance abuse. She was in a Domestic Violence relationship with one of her children's father and as a form of coping with the abuse, Ms. Warner resorted to using substances. Often, she called the police to avoid losing custody of her children and enrolled herself in inpatient care to help her recover. She voluntarily gave custody of her children to her mother to avoid DCFS detaining and placing her children in foster care. Once Ms. Warner completed her substance abuse program, DCFS granted her custody of her children, Landon, Azelya and her youngest son Ethan. Meanwhile, her 3-year-old son remained with Ms. Warner's mother to allow her more time to be stable.
IHOC Amezcua completed an auxiliary request that assisted Ms. Warner with three months of rent. Ms. Warner reported she was behind on rent since her current partner was laid off from work and she was unemployed. Ms. Warner successfully completed her substance abuse program, random drug testing from DCFS, individual therapy, and was attending Narcotics Anonymous (NA) meetings with a sponsor to maintain sobriety. IHOC Amezcua assisted Ms. Warner by linking her to mental health services with another organization. She engaged Ms. Warner in discussions about ways to improve her children's self-worth, child safety, problem-solving with her children, age-appropriate discipline, healthy ways to communicate, and the importance of providing children with a violence-free and drug-free home environment. IHOC Amezcua also discussed the importance of self-care, boundary setting, and utilizing healthy coping skills to assist with daily stressors. Furthermore, she provided her with different community resources to assist with any immediate needs and ways to navigate community resources. The resources included employment, childcare, housing, community events, low-income internet, library, and school resources. This support and guidance helped Ms. Warner in overcoming barriers by finding alternative solutions to successfully meet her goals.
Ms. Warner currently resides with her current partner, father of Ethan, and her three children in a studio apartment. She has stated that her current romantic relationship is healthy, and she feels stable and loved by her partner. During home visits, IHOC Amezcua observed that Ms. Warner implemented proper tools to provide her children with a healthy home environment and demonstrated insight and judgment on her actions and emotional well-being. Ms. Warner reports that her future goals include maintaining sobriety and moving into an apartment with more space. She stated that her children will continue attending individual therapy to help them process the Domestic Violence abuse they witnessed by her ex-partner. She understands how her actions affect her children and her priority is to continue providing them with a healthy and nurturing home environment. Her Family Preservation (FP) case and the Department of Children and Family Services (DCFS) case both successfully closed in January 2023. The support system which included her family, sponsor, partner, and friends helped her during this period in her life.