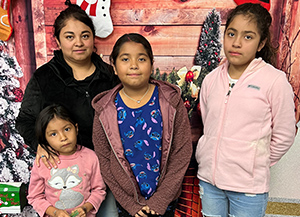 The holiday season is a time of joy and celebration as many share happiness with their loved ones. However, that's not always the case for many people. During the 2022 holiday season, El Centro de Amistad surprised two local single mothers who are domestic violence survivors with $2000 checks to assist with financial challenges and housing costs.
With the help of our therapists, we were able to identify two families this holiday season who were in urgent need of financial support. ECDA's mission was to make their holiday season a little brighter after the hardships they experienced this past year. ECDA surprised these two families on December 21, 2022, during our Adopt-A-Family Campaign event.
The first recipient, Ms. Renteria and her children are clients of ECDA who are receiving services due to a family history of severe domestic violence and abuse. In late 2022, the family left the abusive relationship and their family home with the father behind. Without any support and nowhere to go, they resided at a shelter for domestic violence survivors for 3 months until they were able to find an apartment of their own. Ms. Renteria dedicated her life to her family and was a stay-at-home mom until the moment she decided to leave her partner. Ms. Renteria was forced to leave her home, seek employment and request support from her brother to care for the children while she goes to work. Going to work and leaving her children in the care of her brother has been a challenge for mother and the children since the family have always maintained a close relationship with each other and were used to being together all the time.
Mother is now the sole provider for the family and is facing financial hardships while providing for her family's daily needs. Despite the challenges faced, Ms. Renteria took a leap of faith and continues to do her best to provide for her children and move forward daily.
The second recipient, Ms. Jimenez has been receiving services for a year due to a history of domestic violence. During this time, Ms. Jimenez has overcome many obstacles in order to provide for herself and her three children. Ms. Jimenez balances a full-time job, childcare, and taking the role of mother and father. She is dedicated to her children and finding innovative ways of creating special moments for her family including free activities, going to the park, or having at-home movie nights. However, doing so can often be difficult due to being a single mother, having limited resources and being the sole provider for her family.
Ms. Jimenez has faced many challenges in recent months. She was involved in a car accident and was in the process of trying to find a solution to pay for her vehicle repairs. Furthermore, she is working towards finding stable housing for her family as they were forced to leave their apartment as a result of being unable to cover rent costs.
ECDA's holiday wish was to provide financial support to alleviate some financial stress for both families and bring some hope for the future during this transitional period in their lives.
Board member Enrique Sanchez and his company, SLTG, LLP provided the funds to support these families and is a big supporter of giving back to the community.
To help support families like Ms. Renteria and Ms. Jimenez, please contact Community Relations Supervisor Flaviola Garcia at flaviola.g@ecda.org. To learn more about the community services El Centro de Amistad provides, visit https://ecda.org/.