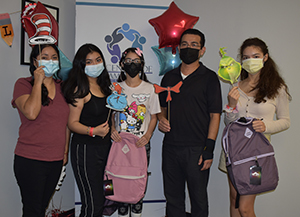 For the past 45 years, El Centro de Amistad has been committed to providing a wide range of mental health services and family support to children, adults, and families in the San Fernando Valley. Giving back is very important to ECDA as it helps unite our community and brings happiness to less fortunate families, especially during these unprecedented times.
Hosting events that give back to our community is one of El Centro de Amistad's priorities. With National Back-to-School Month fast approaching, ECDA hosted its annual back-to-school distribution event on July 28, 2022. This event's goal was to gather enough supplies to successfully nominate children of ECDA families with the tools needed to succeed in school.
School supplies play a very important role in education and how students grow and develop. Having all the supplies they need gives them a sense of security and allows them to perform better academically. Not only did this help parents better prepare their children for the upcoming school year, but also brought many smiles to parents and children in our community.
With the support of their sponsors, the Perez family, ECDA employees, and the business and tax consultants at SLTG, LLP, we provided over 250 backpacks filled with school supplies to nominated families that were assessed for these needs. Each ECDA child and their siblings were provided with the essentials needed for the upcoming school year.
El Centro de Amistad's Case Managers and the team held distribution events at both east and west valleys. The parents and children were so grateful for these donations as one parent said, " Thank you for all these donations, it helps us save money on the cost of our daughter's school supplies ". El Centro de Amistad was thrilled to see the positive outcome of the back-to-school event.
If you or your business would like to learn how you can donate to any of our future fundraising campaigns, please get in touch with Community Relations Supervisor, Flaviola Garcia at (818) 898-0223 or via email at flaviola.g@ecda.org. Donations made to ECDA fundraising campaigns are tax-deductible.