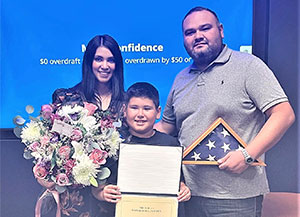 What do Instagram, JP Morgan Chase, and El Centro de Amistad (ECDA) have in common? Juliana Oceguera. Having been promoted to Vice President Community Manager at JP Morgan Chase in September 2021, Juliana wanted to make a difference in the community and help organizations during the holidays. She was scrolling through her Instagram newsfeed and ECDA announced their Adopt-A-Family program.
A perfect opportunity to embrace her mission to contribute to the San Fernando Valley where she grew up, she reached out to Flaviola Garcia, ECDA's community relations supervisor, who was overseeing the outreach. With the help of her colleagues, including two other bank branches who adopted a family as a team, they brought holiday cheer to eight families, including 18 children.
Juliana's included her own family in the Adopt-A-Family outreach, bringing her seven-year-old son, Vincent, along on this journey. They read every family's wish list, and one common item being requested was shoes. After wiping their tears, Juliana spoke to her son about these families' struggles. "I had him go to the store and with his own money, he bought the clothes, and he wrapped the gift."
At the holiday event where families picked up their gifts, she could see his excitement. Vincent recognized how fortunate he was to have a better situation than most of the kids that came in. They saw a set of siblings run up to hug their mother, the only time they would reunite with her was during Christmas. When another group of siblings was asked what they wanted for Christmas they said, "my mom." The children had recently lost their mother. Now, Vincent, she said, appreciates clothes and shoes more than ever before. He is also more mindful of how he can help his community.
Juliana's service extends beyond helping children and families who have mental health challenges. On September 12, she was recognized for her work and service in the community by the White House and City of Los Angeles Mayor Eric Garcetti. During Hispanic Heritage Month, she also received additional awards and recognition from Los Angeles City Council Member Monica Rodriguez, Assemblymember Luz Rivas, and Congressman Tony Cárdenas.
Beyond her work and service, she strongly associates her roles as a community manager and volunteer to her roles as a mom, daughter, and wife. She understands that at the heart of all her roles is a connection, connecting with a person, a family, and a community that needs your help.
She's using her resources, expertise, and connections to help ECDA. Joining the board this past August, Juliana has presented a financial workshop on credit to the staff and is planning several for our clients. Her commitment is to advocate for ECDA's services for what they bring to the community saying that "there might be one person at the edge of their life because they don't know how to ask for help."
"We are all on a different journey," Juliana said of the affiliation with ECDA. "Be of service to others and be a resource to others. Not a lot of people know what resources are available to them. You feel like you can't catch a break because life is hitting you left and right."
She is thankful for the big and small ways ECDA staff give back to the community. Whether it's providing mental health services or having a barber come cut their hair, "how amazing is it that they are doing this for the community? Thank you to ECDA for trusting me and allowing me to be part of the board, to help contribute more to what they have already accomplished in the San Fernando Valley."
Juliana's roots are in the San Fernando Valley, having been born in Panorama City and grown up in Arleta. She's the oldest of her siblings, whom she raised while her mom worked two jobs and still does to this day. She paid her way through college, earning a bachelor's in business administration at California State University, Northridge, before getting married to Armando Flores. Today, she lives in Sylmar with her husband and son.