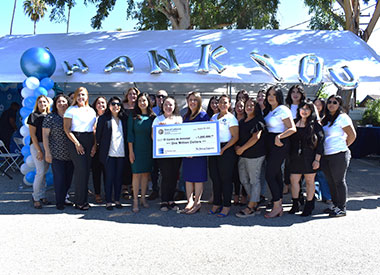 In a significant stride towards bolstering community well-being, Assemblywoman Luz Rivas has successfully secured $1 million in funding for El Centro de Amistad (ECDA). This funding aims to facilitate the expansion of ECDA's existing facilities, fostering increased access to vital mental health, family, and legal services for the local community.
El Centro de Amistad, a distinguished bilingual and cross-cultural nonprofit organization, plays a pivotal role in serving the mental health needs of low-income residents within the San Fernando Valley. Offering an extensive range of services including individual, family, and group therapy, case management, medication support, and employment placement, ECDA's culturally competent staff ensures these services are available in both English and Spanish.
Presently, ECDA operates out of three separate buildings. To enhance service delivery, accommodate staff growth, and provide a seamless continuum of care, the secured funding will be channeled toward construction, renovation, or space acquisition, ultimately expanding the facilities to approximately 12,000 square feet. This expansion is poised to enable El Centro de Amistad to assist up to 5,000 clients annually, effectively doubling its capacity to serve the community. "El Centro de Amistad is deeply grateful to Assemblywoman Luz Rivas for delivering funds that will impact our ability to grow bilingual mental health services in the San Fernando Valley. These funds will enable our agency to accommodate growth by increasing the use of space for our therapists and team" stated Luis Cervantes, ECDA Executive Director.
This strategic expansion and enhancement of ECDA's services underscore the organization's unwavering commitment to addressing the critical mental health needs of the community. Assemblywoman Luz Rivas expressed her enthusiasm for the transformative impact this funding will bring to the local community. "Mental health is a cornerstone of overall well-being, and ensuring accessible and comprehensive services is paramount. I am proud to have secured this funding for El Centro de Amistad, an organization that has consistently demonstrated dedication to providing quality care for individuals and families in need."
The collaboration between Assemblywoman Luz Rivas and El Centro de Amistad is a testament to the power of community-focused initiatives and the commitment to uplifting mental health services for all residents. As the expansion project progresses, the positive influence on the lives of community members is expected to be substantial.
To learn more about El Centro de Amistad, we invite you to visit www.ecda.org.