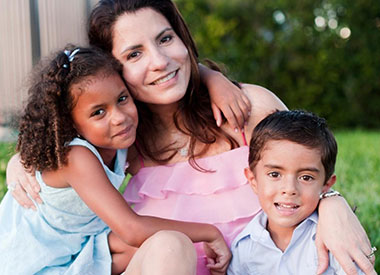 After facing adversity, Jane, a mother of two, has successfully completed mental health treatment at El Centro de Amistad. Jane was originally referred to us in February by the Department of Children and Family Services (DCFS). Her initial involvement came to the attention of DCFS due to intimate partner violence in the home. Jane reported the violence to local authorities and DCFS got involved in anticipation of stabilizing the family.
At the beginning of the case, Jane and her children experienced emotional and psychological hurdles. Her children struggled to adjust to the new home environment and Jane had to adjust to being a single mother. Due to the changes in the home, both her children started participating in therapy and Jane started participating in a parenting program. Jane was actively engaged and was able to gain insight into how to increase healthy communication with her children. She was also able to commit to the court-ordered programs by enrolling in a 16-week intimate partner violence support group for victims with Miracles Counseling Center and completing mental health services. She learned about the cycle of intimate partner violence and identifying red flags in a relationship. Jane's courageous decision to break free from the abuse was the first step in recognizing the need for change.
During her In-Home Outreach Counseling sessions, parenting skills were addressed, and Jane learned appropriate ways to discipline and help with decreasing negative behaviors observed by her children. The program discussed the effects that trauma can have on children's behaviors and taught her how to continue to make her children feel secure by being present and maintaining open communication. Over time, Jane made significant progress in her communication with her children and improved her parenting skills. Jane's stress level lessened because of the gained knowledge on child development and skills learned through her participation in parenting classes. This helped her children feel physically and emotionally secure in their relationship with their mother and it helped with their adjustment of seeing their mother as the sole primary caregiver. Jane's In-Home Outreach Counselor (IHOC) observed that with time, Jane was able to become more flexible and ensured that her children made it to various service provider appointments while she balanced her own court-mandated services. Jane's dedication and commitment have been reflected in her progress and personal growth.
Jane is thankful for the Family Preservation services received at El Centro de Amistad. She shared that due to these services, she has been able to create a stronger bond with her family and has gained confidence and emotional stability. Jane is an inspiration for others facing similar challenges. With determination and support, anyone can achieve their own success story.