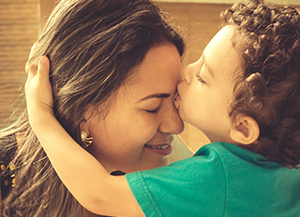 In June 2021, 26-year-old Edith came to the attention of the Department of Children and Family Services due to a domestic violence incident between her and her husband. Edith shared that her husband was under the influence of alcohol at the time of the incident. Edith and her husband have one son, Adam, who is three years old. Edith and her son Adam lived together in a home with Edith's husband at the time of the incident.
Edith was referred to the Family Preservation Program (FPP) and was assigned to Chantal Munoz as her In-Home Outreach Counselor (IHOC). Edith was open to Family Preservation services to complete her court mandates. IHOC Munoz was able to assist Edith in successfully meeting her FPP goals and fulfilling her court mandates. Edith also had an open case with Victims of Crime (VOC). IHOC Munoz assisted Edith in navigating the resources provided by VOC. Edith completed two of her court mandates, therapy and individual domestic violence support through Victims of Crime.
IHOC Munoz assisted Edith in keeping open communication with the Regional Center for child Adam's services. IHOC Munoz also checked in weekly with Edith in how Regional Center was helping Adam improve his speech. During IHOC visits, Munoz and Edith practiced the strategies and techniques Edith learned at the Regional Center.
Munoz provided Edith with additional resources and assistance during the span of her open Family Preservation case. Munoz provided Edith with different community resources to assist with any immediate needs and submitted for discretionary funds to provide the family with safety items for the home. Munoz also ensured the safety of Adam throughout each IHOC visit. During the month of December, Munoz provided the family with toys through the Family Preservation's Toys for Tots program.
Edith's' FPP case successfully closed on January 12, 2022. Edith met all her FPP goals, and Edith's case closure was discussed with CSW. CSW agreed Edith was ready for closure and assured her no child safety concerns. During visits, Munoz observed that Edith had the proper tools to avoid further argument escalation (e.g., walking away, learning triggers) and demonstrated insight and judgment on her actions and emotional well-being.