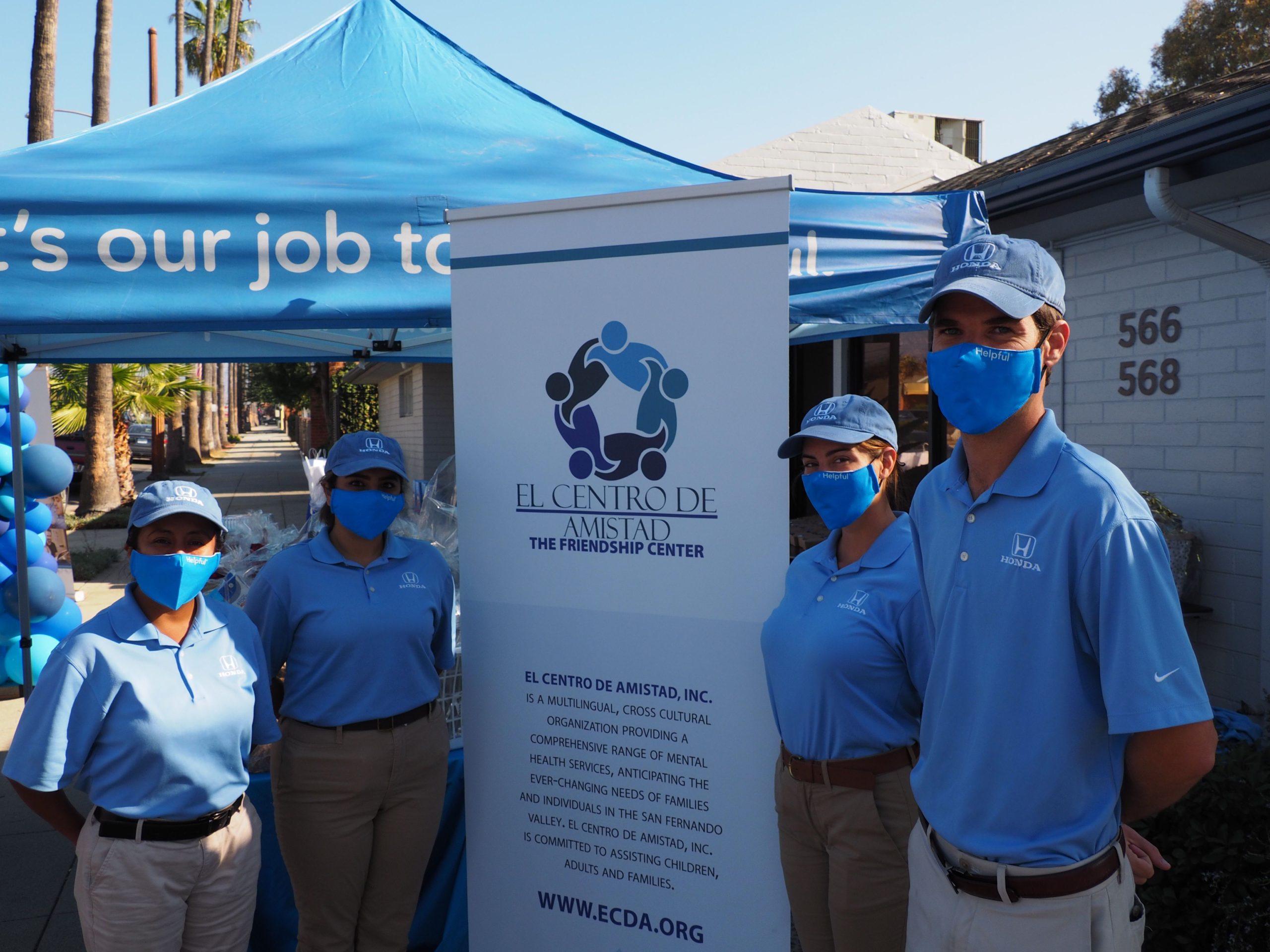 The pandemic and its challenges added anxiety to an already stressful holiday time for families served by El Centro de Amistad. Fortunately, their Thanksgiving holiday got better with the help from the Helpful Honda guys from the SoCal Honda Dealers and a group of content creators, businesses, and influencers on Instagram. The SoCal Honda Dealers, a group of local Honda dealers giving back to the community with Random Acts of Helpfulness, paid it forward to the San Fernando mental health nonprofit by giving grocery gift cards to purchase turkeys and Visa gift cards to help with other essential items.
"We are thrilled to help El Centro de Amistad families during this difficult time. It's an honor to help San Fernando families put food on the table this Thanksgiving," said Destin Judy, SoCal Honda representative.
Distributed curbside on Tuesday, November 24, and Wednesday, November 25, the gift cards were given to families along with the 75 baskets of non-perishable goods, family games, and canvas/cookie kits that were part of a community drive collaboration led by Agoura Hills Resident Vanessa Barrios-DeGiacomo.
"We notice struggling families need support for groceries and paying bills," said Flaviola Garcia, ECDA community relations coordinator, who was surprised by Helpful Honda when she unexpectedly was interviewed by them after she submitted a form to receive help on their website. For these families, the pandemic has added to the unemployment, financial stressors, homelessness, and mental health concerns they experience.
Barrios-DeGiacomo, who motivates influencers to support different nonprofits, began the community drive collaborations with other content creators as a way to redirect her personal anxiety from the pandemic. Hoping to create a distraction, Barrios-DeGiacomo said, "What better way than to support children and families in our communities that need the help."
Other collaborations and members include Magaly's Tamales and Mexican Grill in the city of San Fernando, Councilwoman Monica Rodriguez, T&Y Balloon Décor, Tarzana resident Abigail Solis of @tribe.adventures, Agoura Hills resident Reema Bhayani of @wannabeayogi, Norwalk resident Charlene Jessica Croom of @petitesweetsla, and Santa Fe Springs resident Marisol Barrios Perez of @missguidedmom. Their influence has attracted the support from Girls Scouts Troop #65503 of Oak Park led by Sharon Kruschen of @mamachitchat, Mission Driven PR of @missiondrivenpr, and Collaboration Nation and its brand clients, Fiesta Toys, Regal Games, Stomp Rocket, and Kids Embrace that donated products to include in the Thanksgiving baskets.
"Managing holiday expectations during the pandemic can be extremely challenging. Add the numerous barriers families experience, this time of year can be depressing and filled with anxiety," said Tamika Farr, ECDA executive director. "We are thankful to SoCal Honda Helpers and the many other businesses and individuals who have come together to relieve our families of some stress by bringing food security on Thanksgiving."