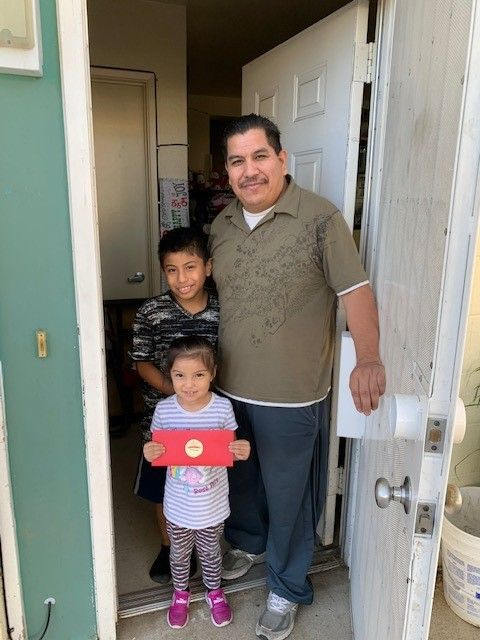 Each year during the holidays, ECDA families, some homeless, from single-parent households, undocumented, or facing family disruption, are identified for our Adopt-A-Family program. This holiday campaign was launched with the support of our Hospitality Committee with the hope of helping diminish holiday stress for some of our most impacted families. Many of our clients struggle to make ends meet while balancing their mental illness.
During 2020 the pandemic increased job loss and financial instability among the families we serve. Despite so many losing their jobs and experiencing uncertain times, the spirit of giving was still alive. Faced with increased need, we were determined to help more families, and we did just that! We began our holiday campaign earlier than usual. Our goal was fortunately surpassed with the support of our ECDA team and new and existing sponsors.
We asked for support, and our community responded. Through our Adopt-A-Family program, organizations, and individual supporters adopted 55 families! Based on urgent needs, families were nominated and chosen by ECDA case managers and clinical supervisors. The adopted families were provided with a Visa gift card for each family member to help purchase essential items and help pay utility bills. The Visa gift cards were delivered to the families by our case managers, and each sponsor received a letter from the families nominated to express their gratitude. One family wrote, "Thank you so much for the beautiful gift and support you have provided to my family and me; without this lovely gesture, my family would not have been able to experience the joy of Christmas this year. Not only have you helped us financially, but you have given us hope for better days to come."
Our partnership with the Los Angeles Fire Department Sparks of Love helped spread joy to children and families in need with toys. In addition, we established wonderful new relationships with new private donors and other community friends who offered hope, love, and a brighter new year for those we serve.
If you would like to learn more about how you can help a struggling family, please contact our Community Relations Coordinator, Flaviola Garcia (818) 898-0223, or email Flaviola.g@ecda.org.