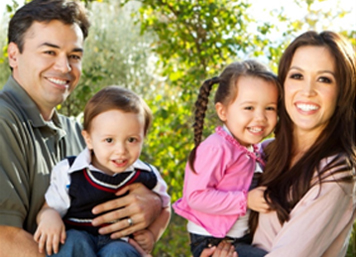 The Lopez family was referred through the Family Preservation Program on June 28, 2019. The family unit is comprised of Mrs. Lopez, Mr. Lopez, and two young children. The DCFS case was opened due to parents engaging in domestic violence in the presence of the children. They were initially referred by their Children's Social Worker (CSW) to FP to assist the family in remaining together and eliminate their anger and abusive relationship to ensure the safety of the children and family. The family was psycho-educated on domestic violence and anger management skills.
The family was engaged and open to FP services and wanted to make changes that would benefit the wellbeing of their children. Throughout the time the case was open, the family worked with In-Home Outreach Counselor, Monica Vidal, on a weekly basis. Mr. Lopez received individual counseling services with another counselor, Viviana Hernandez. The family faced many challenges throughout their case. Mr. Lopez struggled with substance use, which caused him to be removed from the home as well as FP services. He also had difficulty finding employment and lacked stable housing.
Mrs. Lopez was obligated to become more independent as she was now the sole provider for the children. Mrs. Lopez was able to secure employment and increase her income to ensure she could provide stability for the children. However, Mrs. Lopez's history of loss continued to affect her negatively. Mrs. Lopez struggled with self-esteem issues and co-dependency. She was initially hesitant to receive individual therapy, but after some time, she realized it was something that she needed to be able to move forward. Mrs. Lopez enrolled herself in individual therapy with El Centro de Amistad. This assisted her with processing her past and addressing current case issues.
Mrs. and Mr. Lopez participated in a 16-week Nurturing Parenting class, where they met with other parents to learn about child development and other parenting strategies. The children were receiving therapy services with the Child and Family Guidance Center and participating with the family in Parent-Child Interactive Therapy (PCIT) towards the end of the case. PCIT assisted the parents with managing their children's behaviors and with implementing effective parenting strategies through the intense clinical coaching that was provided. Mr. Lopez enrolled in a domestic violence group for perpetrators and was attending an outpatient substance abuse program.
Towards the end of the case, Mr. Lopez has added again to the FP case and was provided with additional resources.Mrs. Lopez stated that she wanted to continue "working on myself" and be in a co-parenting relationship with Mr. Lopez. The family received a Section-8 voucher from the Housing Authority and was able to secure adequate housing. The hard work that the family did during treatment, and the linkage services provided allowed the family the opportunity to strengthen and stabilize their family unit.