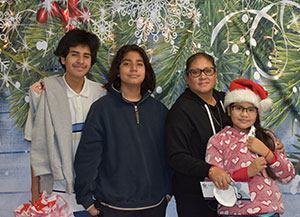 On Tuesday, December 21, we surprised two local families in need with $2,000 checks to help pay for toys, food, and unpaid bills.
"We identified two families this holiday who were in urgent need of support from us," said Flaviola Garcia, ECDA's Community Relations Coordinator. "We knew we had to find a way to make their holiday a little bit brighter after the hardships they recently experienced. We decided to surprise them at a special event where we presented them with a $2,000 check each."
Mr. Andres and Mrs. Jimenez are clients of ECDA who were identified in November to receive the surprise checks at a special event held on December 21.
The first recipient, Mr. Andres, is a client of ECDA who referred himself for mental health services in July 2020 after receiving a diagnosis of Leukemia in October 2019. Mr. Andres is the sole provider for his household and had a difficult time accepting his diagnosis. His wife had to become the sole provider by working at McDonald's. As Mr. Andres began to receive chemotherapy, he experienced severe side effects, and eventually, his wife had to stop working to care for him. As a result, the family began to struggle financially and could barely cover their most needed expenses.
Mr. Andres was having a slow and steady recovery, but in November of this year, he received the unfortunate news that his cancer had returned. He will now have to receive chemotherapy four days a week. He has to drive to the hospital to receive his treatments four days a week. He is the only person who drives in the home and at times needs to pay for Uber to get him to and from the hospital. Additionally, the family will have more financial expenses because the client is uninsured. Mr. Andres has been consistently attending his therapy sessions and implementing the strategies discussed in sessions throughout treatment. He has proven to be strong and resilient but needs financial support so that he can heal and recover.
The second recipient Mrs. Jimenez was referred to ECDA by her children's school counselor as a result of increased mental health challenges. Her husband is the sole provider for the family and works as a construction worker. Mrs. Jimenez stays home to care for their four children. In 2018, she was diagnosed with breast cancer. In 2019, she had surgery to remove the tumor following her treatment with chemotherapy and radiation, which she completed in March of 2020.
On Christmas Day in 2020, Mrs. Jimenez and her husband were involved in a serious car accident. They worried the impact would trigger her cancer to return. The accident left the family with no transportation or means to continue to care for their family. In May of 2021, Mrs. Jimenez had to undergo additional surgery, thus resulting in additional financial hardship.
ECDA Board Chair Danitza Pantoja explained, "Besides families being in dire financial situations right now, their medical diagnosis contributes to their growing challenges. Our holiday wish is that the $2,000 will alleviate some stress and bring hope for a brighter future."
Board member Enrique Sanchez and his company, SLTG, LLP, along with Social Media Marketing Manager Ben Gonzalez, provided the funds to support these families.
To help support families like Mr. Andres and Mrs. Jimenez, please contact Community Relations Coordinator Flaviola Garcia at flaviola.g@ecda.org and to learn more about the community services El Centro de Amistad provides; visit http://ecda.org/.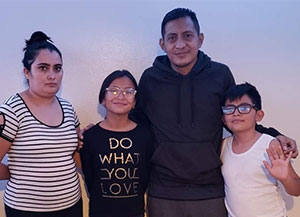 Mr. Andres and his family were presented with a check for $2,000 from El Centro de Amistad to make their holiday brighter after receiving news that his Leukemia had returned. He will begin treatments four days a week and does not have transportation to and from the hospital. To support families like Mr. Andres and Mrs. Jimenez, please contact Community Relations Coordinator Flaviola Garcia at flaviola.g@ecda.org. | Photo courtesy of El Centro de Amistad.