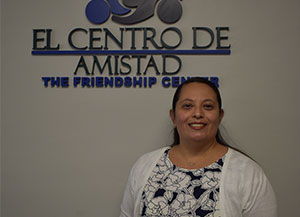 Having left her home country of El Salvador in 1986, Magali Gallegos understands the struggles and obstacles that immigrants face in a foreign place. She believes that had her family known about El Centro de Amistad; they could have benefited from the resources. Now, Magali will be able to lend her expertise and experience to our clients.
"There are so many obstacles you go through when you come to a whole new land," said Magali, who understands the language barriers, the difference in food, and the dynamics of living in a new country. "Everything you know, you left behind. You come to a country with nothing on you."
Magali recalls the turmoil going on and the civil war in El Salvador. Her mother came to America in 1980 and her father in 1981 "There was a huge exodus going on. I think about all of the friends I had, and when I came here, I had nobody. When I see the stories about the recipients, it takes me back in a certain way; and I know the struggles and hardships they are going through."
This inspired Magali to join the ECDA board of directors. As the vice president branch manager of HomeStreet Bank at the Granada Hills location, Magali plans to use her knowledge in the banking industry to help individuals and families. From providing quarterly talks to clients to address their banking needs or answer questions they may have to inform them about financial literacy, Magali is eager to help individuals and families.
"[Many immigrants] usually go to check-cashing places, and it makes them a target for robberies because they are always carrying cash," said Magali, who recalled that her parents didn't have a bank account until she started working at the bank. "They have fears and taboos about banks, and things get lost in translation. They don't' know what steps to take to file claims for fraudulent transactions."
Having moved to the San Fernando Valley 14 years ago with her husband, two children, and in-laws, she is looking forward to being of service in the community where her heart is.
"I'm hoping that by being part of El Centro de Amistad, I can reach out to more people."
Using her own immigrant experience, Magali is ready to turn their banking fears into opportunities to empower themselves. "Together, people can succeed."