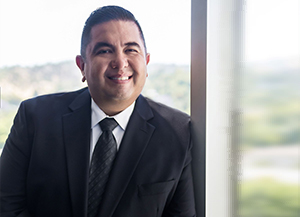 When his wife, Angie Sanchez, became employed right out of college at El Centro de Amistad (ECDA), Enrique Sanchez could not have imagined what was in store for him.
Throughout the past ten years, Angie shared stories with Enrique of the common hardships families overcome. Her dedication and expertise were recognized when she was promoted to program director. Enrique's interest in our agency continued through the years as he attended company events, spoke to other team members, and learned about our giving campaigns.
"I learned about a Christmas campaign El Centro de Amistad was having to ask for help. I had never given it much thought, so Angie was talking about how the families don't have money for a Christmas dinner, not even gifts," said Enrique. "Our giving to the agency started small by adopting a family then sponsoring certain kids."
Now, Enrique has joined other esteemed colleagues as a board member of ECDA. A certified public accountant, Enrique is the founding partner and now managing partner at SLTG, LLP, a company he started about eight years ago.
He leverages the relationships he has with clients, providing them opportunities to save on their taxes and donate to charities like El Centro de Amistad. A client once called him crying because she was touched by the thank you cards she received from the children and families.
"What the agency does and the community it serves really hits home for me," said Enrique, who sees his childhood family growing up in a lot of the families served by ECDA. "I could have used support when my parents split up when I was young. As a kid, you don't know what you don't have. As an adult, we are so blessed."
Growing up in Pacoima, Enrique's commitment is to ensure he uses his resources and business to help his community. For him, the thought of children not having back-to-school supplies and parents unable to provide Thanksgiving and Christmas meals or gifts is unbearable.
"The goal is to do some good and hopefully set the new bar for the next person to do better," said Enrique, who is a role model to his two sons, aged 18 and 8. "ECDA has great potential for letting people know how wonderful the team, its clients, and the community are. They are amazing in what they do, and being able to help the families they come in contact with is empowering and life-changing."